The ESNOlympics takes place in the beginning of the academic year, around November, and it aims to promote the healthy sporting activity and the interaction among Erasmus students from all over Portugal.
Each year, the portuguese local sections organize their own tournaments, to choose the best team to represent their section at a national level.

In 2012, ESN Lisboa was the host  and winner of the national event.
in 2013, it was the time of ESN Porto to shine. In that year, the winning team, the"Porto Kings", also conquered the first place in the international event, in Warsaw, competing with ESN teams from different countries!
The Organising Committee in 2014 was from ESN Coimbra, and the participants played indoor soccer, volleyball and street basketball, and ESN Coimbra won the tournament.
In 2015 the event was hosted by ESN UTAD in Vila Real competing in three different sports with Porto winning the competition once again.
In 2016 the event was hosted by ESN Minho and ESN Lisboa won the competition.

But that is only history, we hope soon ESN Algarve can organize the event and make history, since ESN Algarve exist, we have been participating in all the ESN Olympics editions, we were in Coimbra, Vila Real and Minho.

The sports change every year, depending on the decision of the organisers, but basically the main sports are always indoor soccer, volleyball and street basketball.

If you are a sports fan, start practicing for the most important sports event organised by ESN Portugal, join the ESN Galaxy Team and make history with the ESN Algarve.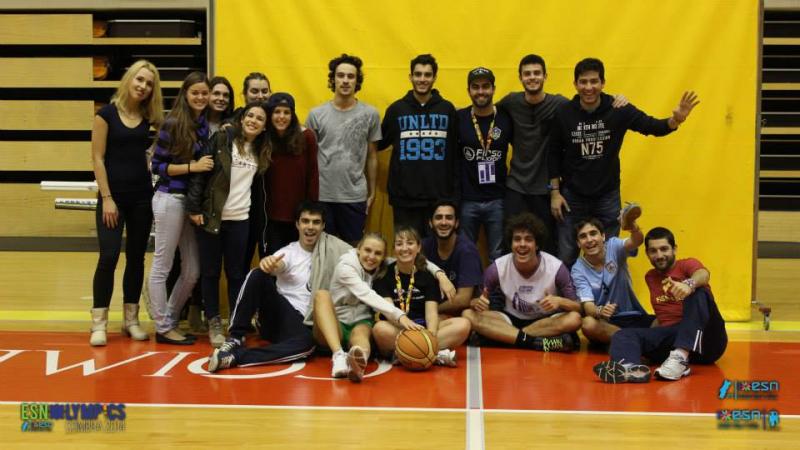 ​                                                                                         (ESN Algarve in ESNOlympics Coimbra 2014)